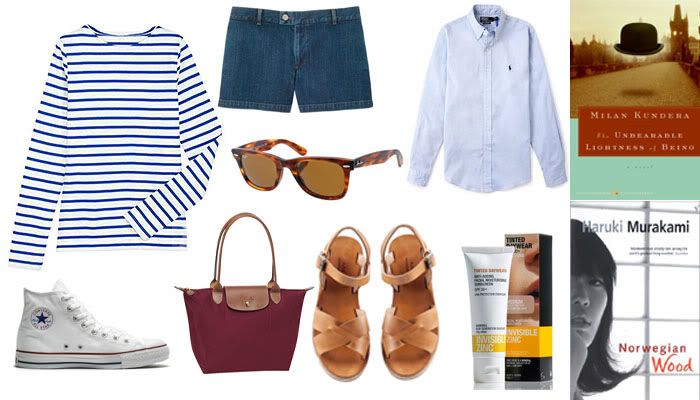 Petit Bateau striped shirt, A.P.C. denim shorts, Ray Ban Wayferers, Longchamp pliage in Braise, Converse high tops, A.P.C. sandals, Ralph Lauren mens shirt, Invisible Inc Suncream,
The Unbearable Lightness of Being
by Milan Kundra and
Norwegian Wood
by Haruki Murakami
I can't sleep so I decided to put this together. I'm going to Phuket in a couple of hours (as you probably have realised if you've read the past few posts haha). I'll pretty much be living in all of this. I'm loving the whole simple striped shirt or oversized mens blue shirt look with either a pair of simple sandals or converse and denim cuffed shorts, classic wayfarers and Longchamp pliage. It's so effortless but chic. The two novels on the side are the ones that I've picked out to enjoy, and I'll be lathing up the suncream because I hate being tanned.