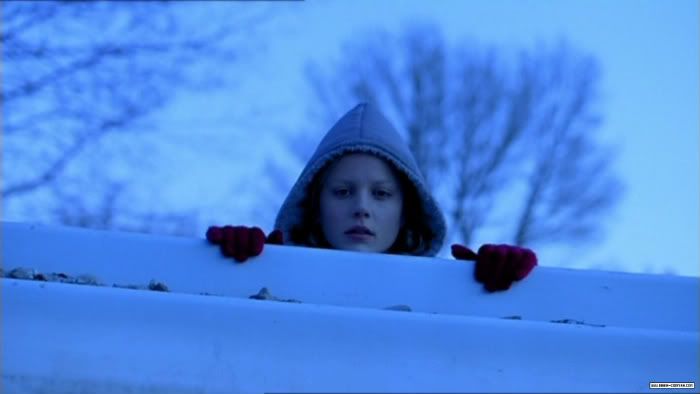 (
Somersault
screencaps via
abby-cornish
)
Somersault
is the magical and daring directorial debut by Cate Shortland which takes you into a world of teenage confusion, naivety and emotion. The story follows a 16 year old girl, Heidi (Abbie Cornish), who has been kicked out after a not so sweet encounter with her mother's boyfriend. She travels up to the snow fields of Jindabyne looking for work that cannot be found and a home which she doesn't have any money to pay for. Luckily a local motel keeper, in need for her own emotional attachment, befriends the young girl and gives her a flat to stay. Starved of any true emotional affection, she attempts to gain a feeling of belonging by looking for several sexual encounters- all that are short lived. That is, until she meets Joe (Sam Worthington) a local wealthy farmer, who is just as confused about life as, she is. The intricate relationship that evolves throughout the film is filled with passion, but also painful realisations and complexity. The beautiful white snow fields at Jindabyne fuel the passion that lies within the film, along with the ethereal score by Australian band Decoder Ring and excellent performances.
Shortlands direction is something that should be praised, it is truly magical and a piece of moving art. Its daring to present a girl who uses her sexuality to gain a friend in the world, but in this case it works. The emotional density of a young girl's confused mind is captured innocently although powerful. The setting alone paints an emotional wasteland that creates a feeling of isolation; the snow fields in regional New South Wales capture the ice cold love and remoteness that is within Heidi's life. Emotions are concealed under the layers of snow, and the complexity of life is slowly revealed as the ice melts away.
Heidi hides behind her own promiscuity, in desperate need not to be alone oblivious of all consequences. Cornish gives a remarkable performance and embodies a little girl lost in the big world. She lives in her own little bubble, nostalgic for the past that is hidden within a book filled with paper cut outs and diary entries; as innocent as a little girls diary. Her connection with Joe is as strong as an electric field, but the communication is lacking. They help each other understand the complexity of life. Joe himself is lost in the world aswell, he is confused about his sexuality and has a short encounter with a gay male friend. Although beautiful, this film isn't one for the impatient; it relies heavily on atmosphere created through sound and cinematography.
The film uncovers emotions that are dying to my discovered. It is a coming of age story, different from the rest, a young girl stuck between childhood and adulthood. Sweeping the 2005 Australia's Film Institute's awards (although, with Australia's poor quality in the Arts, it isn't hard) this film is truly a haunting, poignant and mesmerising sensory journey of a little girl lost.