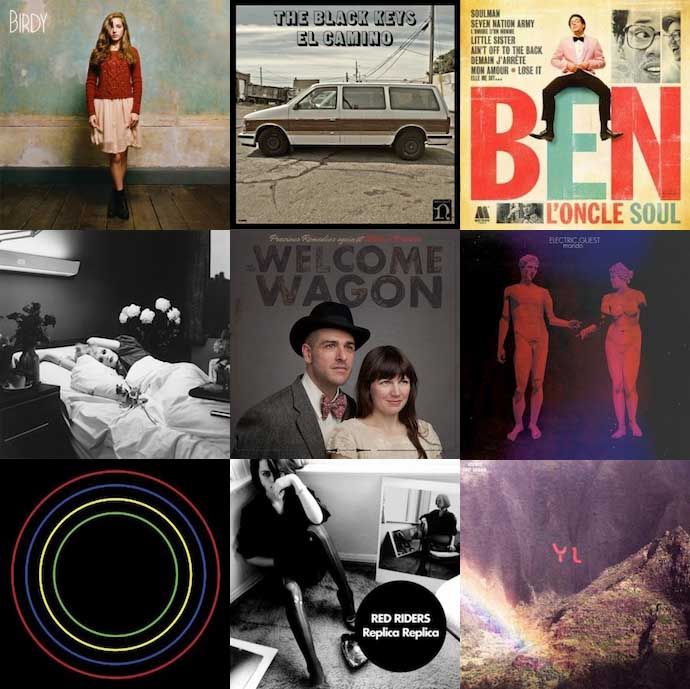 from top left: Birdy by Birdy, El Camino by The Black Keys, Ben L'Oncle Soul by Ben L'Oncle Soul, I Am A Bird Now by Antony & The Johnsons, Precious Remedies Against Satan's Devices by The Welcome Wagon, Mondo by Electric Guests, Four by Bloc Party, Replica Replica by The Red Riders, A Year of Hibernation by Youth Lagoon
I'm not even going to pretend to know anything about music. I can play a couple of songs from the Amélie soundtrack because I taught myself them by ear and my boyfriend is a jazz pianist but that's about the extent of my contact to the music world. That's just a wee little warning that all the words written here come purely from a listener and a lover of music- after all, isn't that the purpose of music? For them to play, and us to enjoy and be blessed with the sounds? Anyways, that was a long introduction to a pretty short and blunt piece of writing about the albums I'm currently enjoying at the moment. Some are new, some are old favorites recently rediscovered and some are old albums that I've only just gotten around to listening to. I've gotten back into the very good habit of buying all my music, which is making me appreciate it so much more.
So, firstly, there's Birdy, a pretty enchanting sixteen year old singer from the UK who has released her first album filled with melodic covers of indie rock pop songs. I've always been a sucker for acoustic covers of old songs, so naturally fell in love with the whole album. She has some years to mature, but I can't wait to see what she releases next.
El Camino
by the Black Keys came with a play loud sticker on the front, something that you have to comply with. Ben L'Oncle Soul is a French soul pop singer who is so great to jive to, some favourite tunes from the album include Come Home and Soulman (and on a previous EP does a fantastic cover of Crazy by Gnarls Barkley, as well as some cheeky covers of Barbie Girl and Say You'll Be There).
Antony & the Johnsons is an old favorite, however I only just got around to purchasing the album. I have loved and cried to Hope There's Someone and I Am Your Sister several times previously, but discovered the beautiful Fistful of Love on this listen. The Welcome Wagon's second album,
Precious Remedies against Satan's Devices
, is a delightful collection of indie gospel folk music from Brooklyn. They make some really lovely music with some really fantastic harmonies, making choir music seem like fun. Next up is Electric Guest's
Mondo
. I haven't given the album a good listen yet, but I can't stop dancing to This Head I Hold!
The third line starts of with Bloc Party's newbie
Four
, which was a pretty big disappointment.
Silent Alarm
is one of my all time favourite albums; it's magnificently tight, filled with energetic guitar riffs, and lyrically evocative. Their next two albums were also satisfying, with a matured sound and just as lyrically excellent. Four manages to have their signature fast guitar riffs (sometimes too fast) and melodic vocals, without the energy, flow and rhythm of their debut. Then there's is the Red Riders'
Replica Replica
, another old favorite that I've only just purchased. It's pretty raw indie rock, but I've always been pretty into the unprocessed feel of their sound. Lastly Youth Lagoons "The Year of Hibernation" is a dreamy minimalistic piece of wonder that has seized my mind on more than one occasion.